Sure, in the early years of business, when cash is limited, putting money into web development or social media promotion may seem like excess spending. But it is more like watering seeds in a garden and waiting for the blooms to grow.
And thanks to the worldwide web, your business has a multitude of marketplace touchpoints to cover. Business today is utterly free of geographic boundaries. It's a lot of territory to cover for your brand's visibility. The good news is that digital/online marketing levels the playing field for smaller businesses and solopreneurs. Business owners like you with highly innovative ideas but short on the resources and budget to make enough marketplace noise.
In this post, let's explore the critical elements of successful marketing, how much of your budget to invest, along with some shortcuts to get it done.
As we covered in the previous post Steps to Startup Success, your pre-launch foundation included market research and competitive analysis for your business. Identifying your customers, the demand for your product or service, and just how much you need to generate regularly to keep your business afloat. Now, it is time to focus on growing your brand awareness through advertising and marketing your services to reach your sales goals.
Once you've figured out your sales figures, you can apply a percentage of that amount for marketing and advertising. In the startup years (1-5), this marketing percentage will need to be continuously monitored and adjusted. As your business grows and finds its place in the market, you will measure the productivity and results of your efforts.
Naturally, new companies need a higher percentage of investment over established businesses. It is often recommended that companies that have been in business for 1-5 years should allocate 12-20% of their gross revenue or projected revenue on marketing for the year. Whereas established companies would allocate 1-10% on marketing from sales revenue, a startup should spend more money because it has to create buzz and market share as well as build industry connections.
Now that you have a rough percentage of what money is needed in your marketing budget, it's time to break down that projected amount into categories for your marketing. Production costs (like art, design, talent), technology costs and paid advertising and content marketing all need to be considered in your budget. For startups or brands looking to change things up, these are the essential factors (and general costs) you need to account for in your budget. Of course, many of these defined costs depend upon your budget, goals, staff, and industry, so apply this advice accordingly.
The Most Bang for Your Buck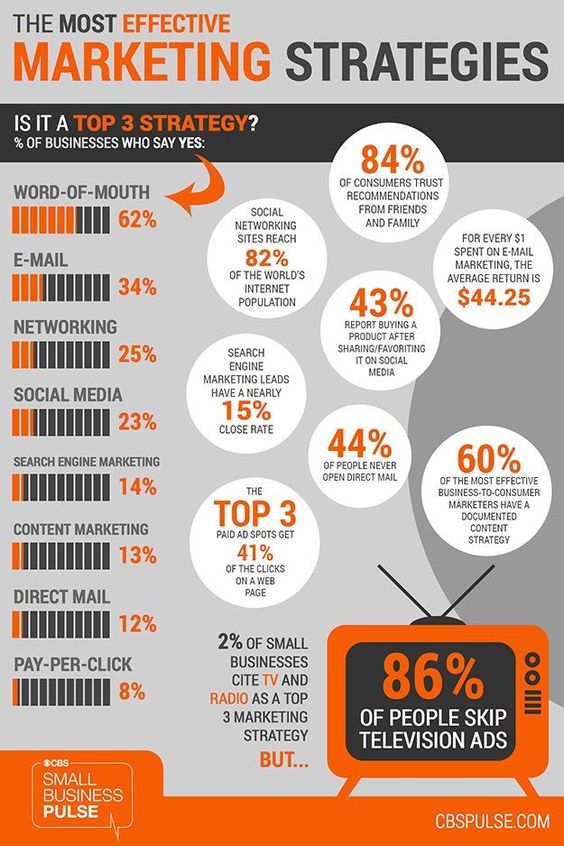 According to CBS Small Business Pulse, 6 of the 8 most effective marketing strategies require an online presence. A fact further supported by Hubspot. See their recommended list of essentials to effectively market your business:
Website: Whether your target customers are local or across the country, an online presence is critical to introducing your brand to the marketplace. This piece deserves your investment. In many cases it is the only impression your company will make.
Blog: A blog provides an informal means of communicating your company's mission and values through topics on industry trends, product/services information and promotional activities. Think of it as a dialogue and encourage readers to comment.
Email marketing: It is still king in the digital-verse, so it is a critical part of your marketing toolkit. In fact, 73 percent of millennials prefer communications from businesses to come via email. This strategy is an easy, free, and scalable way to communicate with both new and existing customers. And, quite easy to manage when leveraging email marketing tools. Such tools do the heavy lifting of packaging professional and polished messaging that keeps your brand consistently visible in your customers' inbox. Consider using marketing automationto make this process practically effortless.
Conversion Tools: We've been talking a lot about the assets you need to grow your business but haven't really covered how these will help drive revenue One simple way to start generating leads or customers from your website is to implement a conversion tool. A simple, free option is HubSpot Marketing Free. By using this tool to add a pop-up widget to your website, you can start collecting email addresses of potential customers. From there, you can send out promotions and offers and convert them into paying customers. You can also implement any of these 24 conversion toolsto help you optimize your website and use it to drive leads.
Social Media: Social media might seem like it's just a fun platform for people to socialize and connect, but it's actually a powerful business tool. Social media can help you increase traffic, improve your search engine rankings, and engage with potential customers.
Take a look at the following chart to understand which platform offers your brand the highest exposure:
Some of these online media giants will be better suited for one type of business over the other. LinkedIn and Alignable give a professional appearance to your company. Facebook, Pinterest, Twitter, and Instagram offer powerful platforms to keep your name and your product or service in front of your target audience.
Wow, we covered a lot of ground here and there is still more. Stay with us for more trends and tips for startups and entrepreneurs.
Wishing you good business til then!