Procedure for checking in clients with day passes.
Go to Book A Desk
Select Client
You can see that the client has available passes.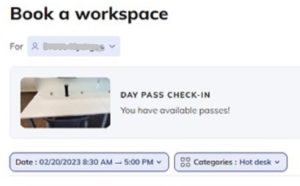 Select a Check In Date

Choose the pass from the list of available passes. Most often there will only be one.

Select the Space Element to Assign
Generally choose the auto-assign default.

When the Confirm button turns dark blue click to complete.
If is is greyed out you have forgotten an element.

Select Client
The system will update the remaining available passes.